All you who have followed this site for a while know one thing, I am really bad at drawing, really bad. Actually so bad that I will never show anything hand drawn here ever. That what brought me into computer aided map making, somewhere back in 1985, when we made the first dungeons using a Mac 128k and MacPaint. Time flies.
Why this sudden break in map making and prop making you might ask?
One of my favorite items as a DM and also as a player are nice pictures of the NPC s you meet, or are trying to run away from. One of my favorite games ever, the James Bond 007 RPG had such nice grey scale photos in the adventures of bad guys, and also of the beautiful foils. I loved that, and I've bought my share of faces to use in my adventures. Now, when I'm seriously addicted to DAZ Studio and all the Poser content in the marketplace, I thought that maybe I can use that for NPC photos, and that is what I will show today.
So I start up DAZ Studio 3 and import a figure from the DAZ 3D Peoples, the Michael 4, who is a free figure that you can use in the free DAZ Studio.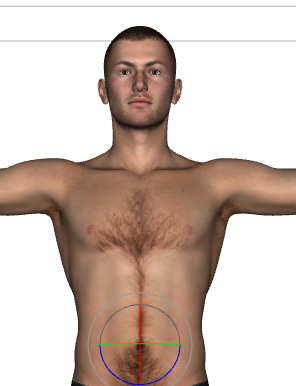 This is Michael 4, say hello to the audience Michael. Hello audience!
The default naked prop has some body hair, but there are fully bare props.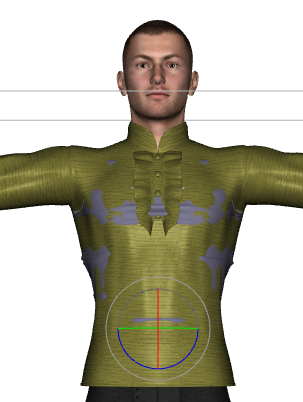 So, I add a tank top underwear (from the Michael clothes pack) and a shirt from the Regency package. As you see, layering multiple clothes might cause bleed, but that can easily be fixed by adjusting cloth params.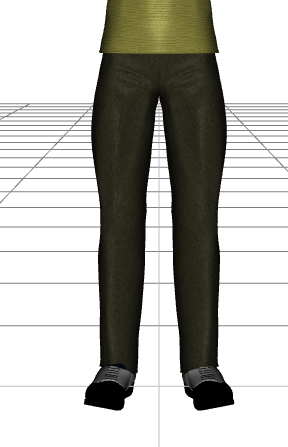 OK, not needed for todays NPC face picture, but I added pants and the cool Mafioso shoes (from the Mafioso Pack)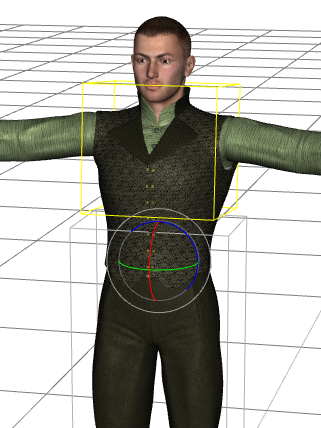 Here I've added the Regency vest, and adjusted it a little, now he starts to look well dressed.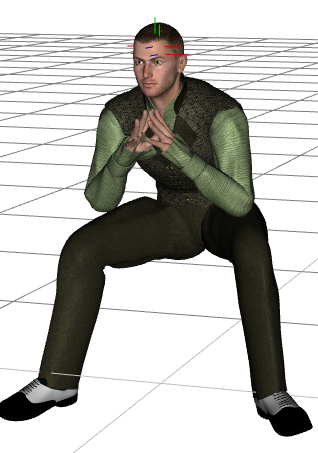 Using a built in pose for Michael 4, we pose the figure like this, sitting. I did this  just to show how flexible this is. I had and played with Poser 2 or something back in the late 90's, but that was a long time ago. This is the same but the figures are so much better.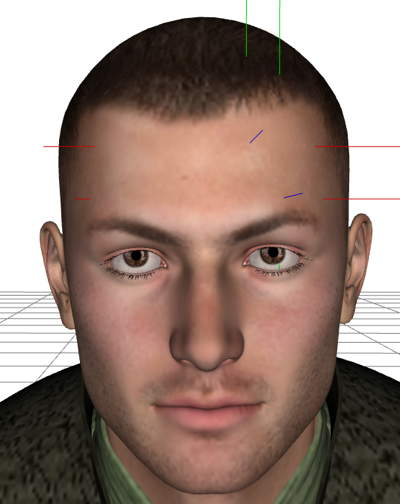 But if was an NPC face we were supposed to do today, so here is a closeup on the face. I've already added the morph called Aged for M4/V4, where M4 means Micheal 4, and V4 means Victoria 4, the two base characters. You will meet Victoria in another post, I promise.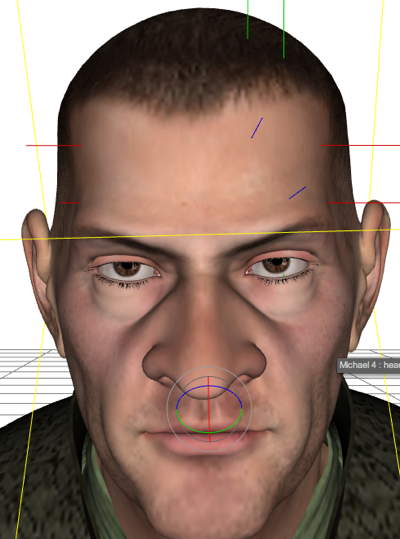 Now, I applied some different morphs from a package called Men of character, which is a very cool collection of great morphs. As you see, age and evilness starts to show.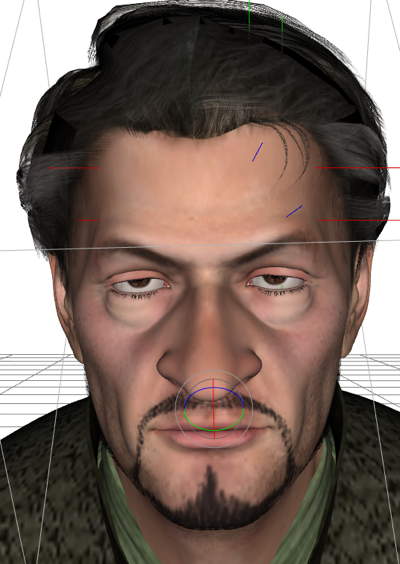 Adding some trimmed beard with Beard_ M4, and some more age to the face, he starts to look like a personality. I added some hair too from Mature_Mark_Hair, of the few hairs I've got. I need more hairstyles I think, adding that to my wish list for the next DAZ platinum member sale. $1.88 for something like this is well worth it. I've spent about the cost of a three day green fee and a pair of golf gloves on this, and as I don't play golf, who can complain 😉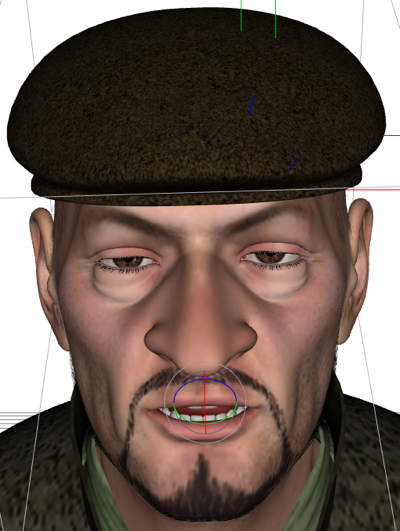 I replaced the hair with some interesting head wear from Headware_for_M4. Also, I positioned the eyes and opened the mouth a little, like he is saying something. I got the Mimic Pro lip sync program for $1.88 the other day at the DAZ 8 years anniversary sale, so I can make speaking NPCs too as movies if I want to. Maybe next time.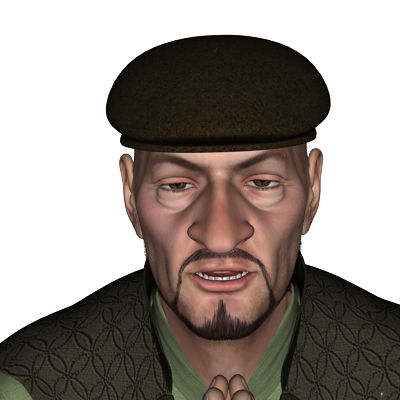 Here is the rendered image, it looks much better that the screenshots from the OpenGL previews. Now, looking on the web for some photos of London streets in the 1930s, I did find this fantastic picture.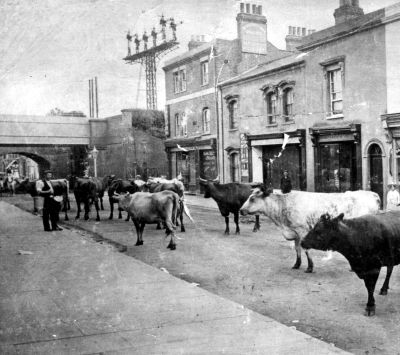 So I placed it as a background behind our NPC, using OmniGraffle.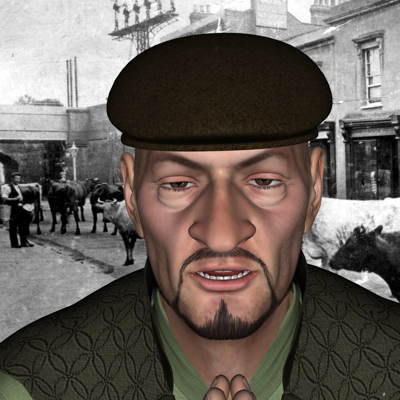 Now, using my favorite FilterForge Filter, Old Photo, I got this old result.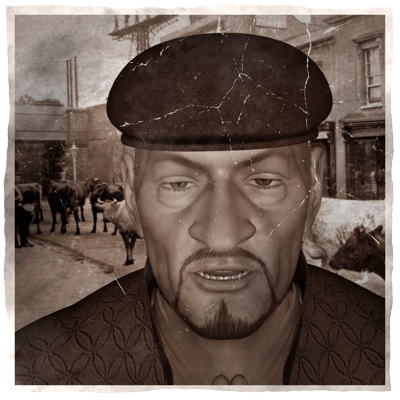 So, who is he, and what will he say to the characters? I have no clue right now, but I will use him in some upcoming O:FR adventure. Next time I think I'll make a fantasy NPC out of Victoria 4, I guess you all would like that?
Comments