Today I'm gonna make a character portrait for another character, the Human Warlord/Swordsmage Raboldor. He is in the start of his career, and he really hasn't achieved much yet
As I said yesterday, I miss something for Dhûrm, and that is his special holy symbol, a die (cube) in a stick. So today I will make that holy symbol, for him.
Today it will be something far away from adventure creating, it will be about the other side of the screen.We who cannot draw those gorgeous character portraits that we sometimes see other players have, we can use 3D, 3D models and 3D tools to make us our character portraits, the same way I make NPCs.
So, my son decided to shock me, and sorted my dice bag into a left over minis box.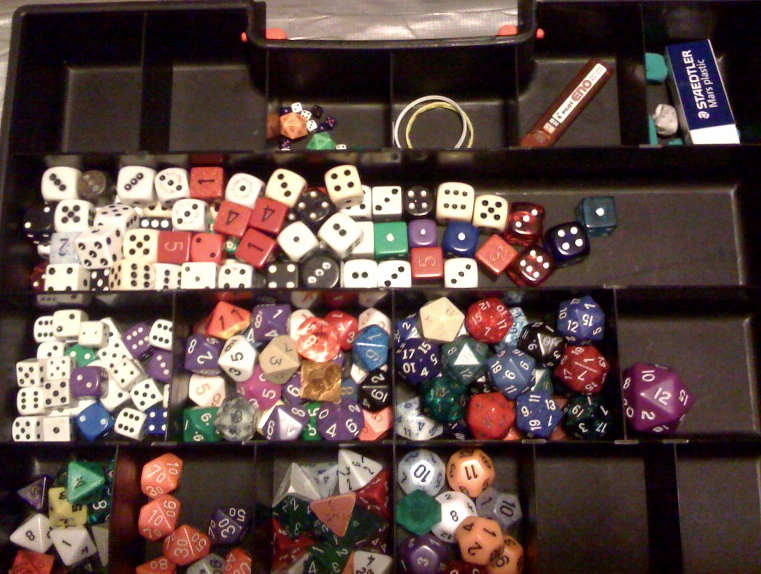 I got a few…. or more than a few.. but they all still roll like crap.
Hello,
I found a link to this little nice tool, DnD Minion, for the DM, if you play DnD 4E, check it out.
Looks handy to track stuff during play, better than trying to use something like excel for it, but I doubt it is as intuitive as the record stripes we use now.
Hello,
I've updated the Monster tracker with some ideas from DM Thomas after our last session. And, I did today realize a problem with them, you need a printer that doesn't yell "replace cartridge" if you wanna use them. I guess printing out "The Heart of Gods  – Part two" for play test today took my very last portion of yellow.
OK, here is the new monster-tracker sheet. A new PC tracker will also come soon.
Today, we're gonna talk a little about gameplay, things that do matter. I got the idea for this rant from newbieDM, who had a story about him as a DM missing rules.